Living with Breast Cancer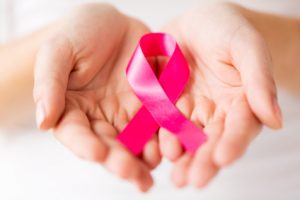 When a woman is diagnosed with breast cancer, she may feel like her world is shattered. However, more women today are surviving this disease than ever before due to advances in medical care. There are many avenues that a woman can explore in regards to her emotional distress, trying to maintain a sense of normalcy and pain that she may experience throughout this difficult time.
Pain Management
Living with breast cancer can be a painful experience for many women. However, you should not be afraid to speak up to your doctor and request pain management medication. Some of the symptoms women may experience include nausea, fatigue, constipation and other types of physical pain. Having constant communication with your doctor is important when trying to manage pain because they can prescribe you pain relief medications.
Support Systems
When you are diagnosed with cancer, one of the most important things you can have is a support system of loved ones and doctors to help you through this difficult time. Cancer can have a strong impact on someone's mental and emotional health because of all of the uncertainty and fear of death. Another major concern that many women with cancer may have is that once they have overcome this obstacle, the cancer may return.
It is important to try and maintain a decent quality of life and obtain a sense of what your new normal might be. The fear of a relapse can have serious mental harm so a strong support system in the form of a support group of others who can understand the way you are feeling or communicating with loved ones is essential.
Life After Breast Cancer
After completing breast cancer treatment, many women may feel pressured to return to the life they lived before having cancer. However, suffering through and surviving cancer brings a new outlook on life for many women. It also brings a lot of anxiety about cancer returning in the future. You have survived one of the most strenuous, painful, and exhausting feats that a person can go through. It is important to take everything one step at a time and determine what your new normal is.
Living Beyond Breast Cancer
Living Beyond Breast Cancer is a wonderful organization that helps survivors connect with other survivors. People who are dealing with the same situation are able to discuss their lives and help each other cope with the medical, emotional, and practical concerns of what happens after treatment. Maintaining your health after you have completed cancer treatments is vital. You should try and keep yourself as healthy as possible, both physically and mentally, and make sure that you visit the doctor regularly to ensure that your health is still in tact.